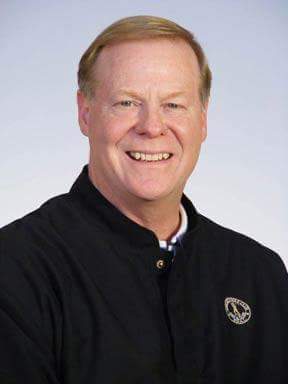 Happy Unique Father's Day to all of you who have been fathers to us and to those who have filled fatherly roles. WE honor you today as Fathers, Grandfathers, Great Grandfathers, Godfathers, Stepfathers and sources of wisdom and strength.
Perhaps you can't be in the same place with your fathers because of our social distancing limits this year. Perhaps you are fortunate enough to be with your father and those who fill a father's role in your life. Either way, we can bless them all in the traditional way. Let us take advantage of Zoom or Teams or FaceTime or other electronic means – and certainly take advantage of being together in person – and convey our appreciation for the fathers among us, an appreciation that God shares for their role in our families, society and communities.
Extend your hands now in blessing over the fatherly among us whose day we celebrate today:
Lord, your love and grace flow through our outstretched hands.
Give these and all who fill the role of father what you have given to fathers in scripture.
The Trust of Abraham who struggled to share the gift of fatherhood for so long with his wife Sara, and because of that trust became our FATHER in faith.
The Courage of Moses who encountered you in such a personal way in the desert and then passed the wisdom of those encounters on to the people he was leading and provided an enabling spirit to his son Aaron.
The zeal and focus of John the Baptist, who never had children of his own, but proclaimed the coming of Jesus with such passion and constantly extended his energy and faith to tell the world about Jesus.
The persistence of Joseph who played such an important role in the life of Jesus as he grew, and supported his wife Mary as you directed him through an angel.
May your blessing console these, our loved ones, when they are discouraged. Comfort them when they are in pain, and guide them to be the fathers that you have intended them to be.
We pray TO you our loving creator,
BY the working of the Holy Spirit and
THROUGH Christ our Lord,
Amen.
We are working VERY hard to adhere to the health procedures of the State of Illinois and the Archdiocese of Chicago regarding our phased re-opening process. Please be attentive to the regular Friday email blasts and other communications that we send to you in order to share the most updated and accurate information about this process. As time goes on we are all receiving varied information from many sources and often that information reflects differences and even contradictions.
I emphasize that procedures vary from parish to parish and certainly from non-Catholic churches. I cannot emphasize enough that we are being very diligent and attentive to providing worship and other prayer experiences as SAFELY as possible in compliance and unique to Holy Family.
I certainly sense an excitement among us to return to pre-pandemic ways, because so many non-church businesses, organizations and activities seem to be ignoring requirements to wear masks and to practice social distancing. These experiences do not permit us to do the same. YOUR health and safety is paramount to me and our staff. Please adhere to the registration process and other safety requirements that we are conveying to you. The recent video that is available on our website will probably answer many of your questions and clarify our procedures.
I know this has been difficult and these procedures appear to severely limit our prayer, particularly the celebration of the Eucharist, but I ask for your patience and understanding as we move forward, methodically yet safely. Thank You.
Today's scriptures give us some timely commentary. The Gospel encourages us to worry more about what can kill our soul than our body. I am making a renewed commitment to address the sin of racism that I believe can kill the soul of our nation. I find hope in the wisdom of our first reading from a great prophet, who at a time of significant challenge not unlike ours as the violence and protests in the midst of a call for greater justice continue. The prophet Jeremiah says, "In you I entrust my cause." Let us trust in the presence of God in a cause that must come, and may that wisdom be complimented by the words of the French poet Victor Hugo, "Nothing can stop an idea whose time has come."