Contact:
Sue Geegan
sgeegan@holyfamilyparish.org
847-907-3443
Each year during Lent, Holy Family Catholic Community takes on a social justice project to support a mission church or organization in need. We educate the parish about a specific issue and offer prayers, fasting, and alms-giving in support and solidarity.
Holy Family Catholic Community has partnered with Catholic Extension Society to support mission dioceses throughout the United States and other foreign countries, where the needs are great and the Church is growing. Our efforts have also supported local programs such as JOURNEYS the Road Home, a local agency working with people in a homeless situation or on the verge of becoming homeless, Catholic Charities' Peace Corner and St. Sabina Church in their violence prevention programs.
Lenten Social Justice Projects raise an accumulative total of $445,114. for the projects listed below.
Past Lenten Social Justice Projects
2019- Kino Border Initiative, Nogales, Arizona/Nogales, Sonora, Mexico and the Holy Family Fund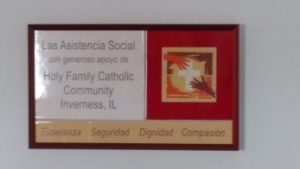 JUNE NEWS LETTER (click to read)
KBI recently dedicated a brand new building to better serve people fleeing their homeland due to famine or violence.  The dedication began with a Love First moment.  A woman noticed people walking in her neighborhood with white lips.  She knew that meant they were hungry and dehydrated.  She saw so many people that she thought all she could do was pray.  While continuing to see these people, she then wondered, "How much can it cost to offer them some beans and a cup of water?"  That was in 2010. What began with a woman with love for her neighbor in her heart grew to what is now KBI. They began to serve people in a small building holding approximately 100 people at a time.  Since 2010, it is estimated 775,000 immigrants have been served by KBI in that small building. This new building with greater capacity allows KBI to provide additional services such as counseling, sleeping quarters and a clothing room.
Because of our donation to fund support services to their visitors, KBI dedicated the Social Services Room in the new facility in Holy Family's honor. 
Holy Family Fund
In August, 2019, nearly 700 workers in chicken processing plants in the Jackson, MS diocese were arrested in ICE raids.  Most were of Guatemalan descent.  Catholic Extension, with the assistance of Holy Family Parish, has been instrumental in providing resources and aid to local Catholic churches serving these families whose lives were turned upside down in a matter of moments. I had the privilege to be with a few of these families in November as they told stories of what transpired during the raids and how this experience is currently affecting them, their children and their community. Separating children from a parent has long-term psychological effects.  To make matters more dire, the children are not allowed to speak about their experience or the experience of their parents in school.  The trauma festers with no safe place to talk about fears and concerns.  The Holy Family Fund is currently helping hundreds of people affected in the raids by providing clinical counselors to listen and provide practical steps toward healing.  This compassionate outreach is crucial for these families to begin rebuilding their lives.
Catholic Extension's Holy Family Fund
FAMILIES BELONG TOGETHER
2019 Annual Report
 Catholic Extension has long supported ministries to welcome and support immigrants, so it is no surprise that when immigrants endure the traumatic impact of detention or deportation of a breadwinning member of their family, Catholic Extension, through the support of you, our donors, is there to ease their suffering. This past year, Catholic Extension established the Holy Family Fund to assist immigrant families in Extension Dioceses who experience a sudden family separation due to ICE raids, detention and deportations. The title of this program honors our founding partner, Holy Family Parish in Inverness, Illinois, whose generous donations from a Lenten appeal created the fund. The name also honors the Holy Family of Nazareth, Mary, Joseph and the Christ Child. They themselves were a young immigrant family who fled violence and persecution in their homeland. The program provides funds and supportive services to immigrant children and spouses who experience extreme financial insecurity and profound trauma in the wake of these abrupt family separations.
Last August, the largest immigration raid in U.S. history took place in Morton, Mississippi, when 680 residents were detained without notice. Families were shattered. The immigrants, mainly of Guatemalan descent, belonged to poor parishes that Catholic Extension has helped for years. Through the Holy Family Fund, Catholic Extension responded immediately. We provided emergency aid to several parishes, who then reached out to families with humanitarian assistance and eased the chaos. Father Jack Wall, our president, said "Separated families, like the ones in Mississippi, are the human toll of our broken immigration system, which suffers from our nation's inability to find a common sense legislative solution to this pressing issue." "Families are the core of our Church and our nation," he added. "There is no greater thing that we can do for the common good than to strengthen families, including immigrant families. When we break up families, no one wins."
To date, the Holy Family Fund has extended nearly $125,000 to immigrant families. In addition to donating $80,000 to this fund, Holy Family Parish has extended nearly $300,000 to Catholic Extension from other Lenten campaigns through our Parish Partnership Program. This initiative offers parishes the opportunity to make a difference in the lives of fellow Catholics by connecting them to communities in need.
Jonathan, 8 years old, wrote: "There are many destroyed families, children who are suffering, waiting to see their dad or their mom who are still in detention. We ask you to keep helping people who still have family members in detention. Please do not abandon us. Because we the children are the ones who are suffering the most after the raid on August 7th. Many days have passed and the children still have hope to see their mother or their father come back home. We are very grateful for all that you are doing for us and for the help that you gave to my mom."
To read Catholic Extension's 2019 Annual Report, go to https://catholicextension.org/annual-report/pdf/2019-CE-AnnualReport-web.pdf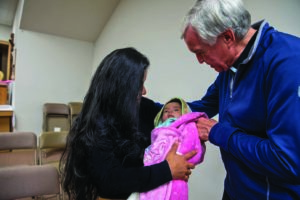 2018 – Peaceful Pathways, Chicago, IL
2017 - San Miguel Archangel Church, Cuba
2016 - JOURNEYS|THE ROAD HOME
2015 St. Mary's Mission Church and School
2014 - St. Paul Mission Church in McKee, KY