Contact:
Sue Geegan
[email protected]
847-907-3443
Each year during Lent, Holy Family Catholic Community takes on a social justice project to support a mission church or organization in need. We educate the parish about a specific issue and offer prayers, fasting, and alms-giving in support and solidarity.
Holy Family Catholic Community has partnered with Catholic Extension Society to support mission dioceses throughout the United States and other foreign countries, where the needs are great and the Church is growing. Our efforts have also supported local programs such as JOURNEYS the Road Home, a local agency working with people in a homeless situation or on the verge of becoming homeless, Catholic Charities' Peace Corner and St. Sabina Church in their violence prevention programs.
Lenten Social Justice Projects raise an accumulative total of $445,114. for the projects listed below.
Past Lenten Social Justice Projects
2019- Kino Border Initiative, Nogales, Arizona/Nogales, Sonora, Mexico and the Holy Family Fund
2018 – Peaceful Pathways, Chicago, IL
2017 – San Miguel Archangel Church, Cuba
2016 – JOURNEYS|THE ROAD HOME
2015 St. Mary's Mission Church and School
2014 – St. Paul Mission Church in McKee, KY
2019- Kino Border Initiative, Nogales, Arizona/Nogales, Sonora, Mexico and the Holy Family Fund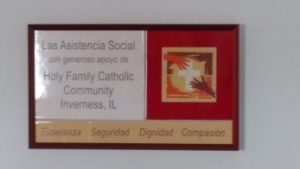 JUNE NEWS LETTER (click to read)
KBI recently dedicated a brand new building to better serve people fleeing their homeland due to famine or violence.  The dedication began with a Love First moment.  A woman noticed people walking in her neighborhood with white lips.  She knew that meant they were hungry and dehydrated.  She saw so many people that she thought all she could do was pray.  While continuing to see these people, she then wondered, "How much can it cost to offer them some beans and a cup of water?"  That was in 2010. What began with a woman with love for her neighbor in her heart grew to what is now KBI. They began to serve people in a small building holding approximately 100 people at a time.  Since 2010, it is estimated 775,000 immigrants have been served by KBI in that small building. This new building with greater capacity allows KBI to provide additional services such as counseling, sleeping quarters and a clothing room.
Because of our donation to fund support services to their visitors, KBI dedicated the Social Services Room in the new facility in Holy Family's honor. 
Holy Family Fund
In August, 2019, nearly 700 workers in chicken processing plants in the Jackson, MS diocese were arrested in ICE raids.  Most were of Guatemalan descent.  Catholic Extension, with the assistance of Holy Family Parish, has been instrumental in providing resources and aid to local Catholic churches serving these families whose lives were turned upside down in a matter of moments. I had the privilege to be with a few of these families in November as they told stories of what transpired during the raids and how this experience is currently affecting them, their children and their community. Separating children from a parent has long-term psychological effects.  To make matters more dire, the children are not allowed to speak about their experience or the experience of their parents in school.  The trauma festers with no safe place to talk about fears and concerns.  The Holy Family Fund is currently helping hundreds of people affected in the raids by providing clinical counselors to listen and provide practical steps toward healing.  This compassionate outreach is crucial for these families to begin rebuilding their lives.
Catholic Extension's Holy Family Fund
FAMILIES BELONG TOGETHER
2019 Annual Report
 Catholic Extension has long supported ministries to welcome and support immigrants, so it is no surprise that when immigrants endure the traumatic impact of detention or deportation of a breadwinning member of their family, Catholic Extension, through the support of you, our donors, is there to ease their suffering. This past year, Catholic Extension established the Holy Family Fund to assist immigrant families in Extension Dioceses who experience a sudden family separation due to ICE raids, detention and deportations. The title of this program honors our founding partner, Holy Family Parish in Inverness, Illinois, whose generous donations from a Lenten appeal created the fund. The name also honors the Holy Family of Nazareth, Mary, Joseph and the Christ Child. They themselves were a young immigrant family who fled violence and persecution in their homeland. The program provides funds and supportive services to immigrant children and spouses who experience extreme financial insecurity and profound trauma in the wake of these abrupt family separations.
Last August, the largest immigration raid in U.S. history took place in Morton, Mississippi, when 680 residents were detained without notice. Families were shattered. The immigrants, mainly of Guatemalan descent, belonged to poor parishes that Catholic Extension has helped for years. Through the Holy Family Fund, Catholic Extension responded immediately. We provided emergency aid to several parishes, who then reached out to families with humanitarian assistance and eased the chaos. Father Jack Wall, our president, said "Separated families, like the ones in Mississippi, are the human toll of our broken immigration system, which suffers from our nation's inability to find a common sense legislative solution to this pressing issue." "Families are the core of our Church and our nation," he added. "There is no greater thing that we can do for the common good than to strengthen families, including immigrant families. When we break up families, no one wins."
To date, the Holy Family Fund has extended nearly $125,000 to immigrant families. In addition to donating $80,000 to this fund, Holy Family Parish has extended nearly $300,000 to Catholic Extension from other Lenten campaigns through our Parish Partnership Program. This initiative offers parishes the opportunity to make a difference in the lives of fellow Catholics by connecting them to communities in need.
Jonathan, 8 years old, wrote: "There are many destroyed families, children who are suffering, waiting to see their dad or their mom who are still in detention. We ask you to keep helping people who still have family members in detention. Please do not abandon us. Because we the children are the ones who are suffering the most after the raid on August 7th. Many days have passed and the children still have hope to see their mother or their father come back home. We are very grateful for all that you are doing for us and for the help that you gave to my mom."
To read Catholic Extension's 2019 Annual Report, go to https://catholicextension.org/annual-report/pdf/2019-CE-AnnualReport-web.pdf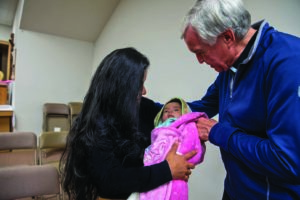 2018 – Peaceful Pathways, Chicago, IL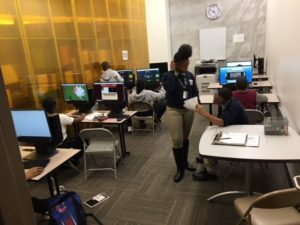 St. Sabina's Strong Futures and Catholic Charities Peace Corner Youth Center
Strong Futures
Strong Futures began with 61 young men identified with an unmet need in the community. Since Holy Family's Lenten financial support in 2017, the Strong Futures has provided transportation bus cards to participants who have taken part in their work force development activities on campus and once they found employment they were able to become self-sufficient in getting to and from work. They were also able to assist participants who were homeless with rental assistance for initial move-in. One of the participants, Emoni Atomah, who was recently a victim of senseless gun violence, was a recipient of initial rental assistance and had become self-sufficient and in the process of starting a new job when he was senselessly murdered.  Our donation also allowed the program to help young men obtain legal assistance that enabled them to overcome barriers to employment.  One young man is now a project manager for The Will Group Inc, a company here in Chicago, and another now works for a company in Wisconsin and is doing well. Our support has also assisted in the rehab of a property that the Strong Futures Program will be moving into in the spring of 2020 to accommodate more young men.
The program was able to service 165 active participants in 2019. As of Dec. 2019, 122 participants or 74% obtained employment and 2 members enrolled in college full time. The Strong Futures program also assisted several individuals with securing permanent housing and is currently looking to expand their participant base, with the goal of 100% full time employment. Producing a positive member to the community and society is what success looks like to Strong Futures and St. Sabina's would not have been able to accomplish so much since our Project with Holy Family's help.
The Peace Corner Youth Center
Fr. Maurizio Binaghi of the Comboni Missionaries, saw a need in 2002 and what transpired was the beginning of what is now The Peace Corner Youth Center. It was created as a place where children could be safe to be children. Young people of the neighborhood came to do homework, play pool, and talk to someone about their problems.
Outgrowing its first facility, The Peace Corner began plans for building its permanent home in 2009. The Peace Corner has a computer lab, a fully-equipped classroom, a regulation basketball court, and the respect of the neighborhood under the wing of Catholic Charities.
Holy Family's financial and in-kind support made it possible for The Peace Corner to update the computer lab, add gaming and purchase new, contemporary furniture in the lobby and craft room.  Continued in-kind support brought Back to School supplies and Christmas gifts later that year.  Holy Family also assisted with food for a Christmas party to celebrate all the students were accomplishing through mentoring and tutoring.  In the future, more innovative programs will be added to continue reaching out to the young people in the Austin neighborhood.  Love First is evident at the Peace Corner which is transforming a neighborhood with many challenges into a place for hope.
2017 – San Miguel Archangel Church, Cuba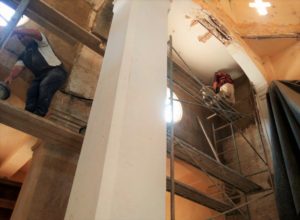 2017 – San Miguel Arcangel Church, San Miguel de los Banos, Cuba –
San Miguel Arcangel Church, San Miguel de los Banos, Cuba
Significant work has occurred over the last three years to begin to transform the once-dilapidated building into a church.  Work already completed includes the demolition of the three-floor bell-tower and lateral naves, repairs to the exterior of the dome, partial restoration of the interior beams of the dome, carpentry work of doors and windows, installment of new windows to the north side of the church, repairs to the interior columns, placement of supporting beams, and repair to exterior walls, as well as partial installation of the electric system.
The journey has not been an easy one for San Miguel Arcángel but a journey that began with Love First.  The entire island of Cuba is facing massive shortages of supplies and materials.  Cement and gasoline were at a shortage in the country, a problem which was only exacerbated by Hurricane Irma in 2017. Additionally, the lateral naves of the church had to be demolished and reconstructed due to the bad state they were in. Despite the challenges, the parishioners–true to the resilient and determined spirit of the people of Cuba—were able to finally gain access to cement and transport it to San Miguel Arcángel.  Now, work on the project is moving forward again, as evident in this encouraging photo.  Catholic Extension will continue to monitor the progress of this important project.
It is important to note that this delayed construction process has not been time lost for the people of San Miguel.  The community members continue to meet in people's homes for liturgy and prayer.  They know that with Holy Family's support three years ago, their dream of having a church is slowly becoming a reality.  They are patiently waiting in hopeful expectation of the day when they can walk through their church doors again.
Holy Family's generosity allowed many additional projects to be completed on the island.  The pastor of the Cathedral of San Rosendo in the diocese of Pinar del Ro says: "I want to take this opportunity to express our thanks to Holy Family for your project, your help in the restoration and painting of this cathedral.  We are so happy. We are thankful and we pray that the Lord may keep blessing you and remain with you always.  Many blessings on you and pray for us.  Thank you." 
2016 – JOURNEYS|THE ROAD HOME
2016 – JOURNEYS|THE ROAD HOME –
Northwest Suburban PADS, Inc. was created in 1989 and eventually merged with HOPE NOW, Inc. in 1992 to address the growing homeless population in the northwest suburbs.  In October of 2001, Northwest Suburban PADS and HOPE NOW legally merged—forming the new agency known as JOURNEYS | The Road Home, a multi-funded, comprehensive service agency with wrap-around services including case management, job counseling, minor medical care, mental health screenings and securing permanent and stable housing.
Holy Family had been PADS site for 16 years at the time of our Lenten project and we understood the importance of reaching out to the homeless population.  Our Lenten project increased our parish's awareness and increased JOURNEYS capacity to serve their clients.  It just so happened that in 2016, the number of families facing homelessness was on the rise.  This created a new challenge for JOURNEYS to properly serve not only adults, but now the many children caught in the trap of homelessness. Our gift was a huge blessing to the JOURNEYS staff as well as the families being served.
The momentum is continuing as JOURNEYS recently announced they will construct a 3-story, 27,000-square-foot facility adjacent to their current building, which will eventually be demolished. The new structure will have first-floor offices, 42 beds for PADS clients to use overnight on the second level and 11 permanent, affordable supportive living apartments on the third story.
As affordable housing options diminish in our area, JOURNEYS provides the care and dignity to individuals and families facing homelessness during their time of struggle.  Holy Family Parish and its parishioners are a beacon of light to our neighbors, especially our neighbors in need.  For more information about JOURNEYS, go to journeystheroadhome.org.
2015 St. Mary's Mission Church and School
2015 – St. Mary's Mission Church, Red Lake Reservation, Red Lake, MN –
Fr. Jerry Rogers' approach brought rich Catholic traditions to the Reservation and merged them with rich Native American rituals.  Since his arrival at Red Lake, the people of St. Mary's Church and the local community have embraced him for his love and commitment to them through all their ups and downs.
Holy Family's Lenten Project supported a Pastoral Associate at St. Mary's Mission and School, which increased outreach to vulnerable children and families.  These positions still exist at the parish. A three-year grant to the diocese supports a Grant Writer position which generated a total of $390,000 in grant funding during that period to ensure greater sustainability of the parish and school. Holy Family's investment in this position continues to have impact.
Feedback from the school in 2018: "St. Mary's Mission School has successfully raised the level of reading and math in our students. An area which we lacked in was technology. [With] one of the grants received, we were able to purchase iPad, Chrome books and Smart Boards for the students and teachers. Karen B., one of the parents, remarked, 'I am so thankful, our students have the technology needed, so when they leave St. Mary's they are not behind.' We have done an excellent job in reading and math, and our kids are ahead of the public school when they leave St. Mary's."
Here is another quote from a report we received in June 2019: "Our students and the children of Red Lake live in households that are very high risk. They have been exposed to more than the average child should or does experience in their lives. St. Mary's gives our students consistency, love, guidance along with the education. These children know they are safe and have no trouble expressing this."
On a sad note, in December 2017, the church was completely destroyed by a fire (the school building was not impacted).  The community is sticking together in spite of losing their worship space.  They are currently working on a plan to rebuild.  Fr. Jerry Rogers is, as always, optimistic and said, "Out of the ashes will rise a new church."
2014 – St. Paul Mission Church in McKee, KY
2014 – St. Paul Mission Church in McKee, KY –
Rebecca fell in love with the people living in McKee, Ky, especially at St. Paul Mission Church.  She was open to doing what was needed knowing that God uses everyone for something and He always teaches us through others.  Through that lens, she gained a perspective on the importance of diversity in the parish.  It made her want to continue to work in the Church.  She never felt alone and they felt like family.
Rebecca shared: "I never thought about or felt any different as a woman and lay person (doing pastoral work) because Sister Mary had been in charge for so long before there was a pastor.  That is the beauty of St. Paul. They are like family and it's "everybody's church."  Working with Sister gave me a perspective on religious sisters, and I loved the level of care they gave to everyone.  We all carried different roles and experienced God in each one. "
One unique program Rebecca started was to make granola and sell it to visitors coming to McKee as it is a favorite place for hikers because of the sheer beauty of the mountains.  It was a way to create new jobs in a town devastated by the demise of the coal industry.  She has been in contact with a businesswoman in Jackson county, KY that currently runs a cheesecake business.  She is considering taking on the Mountain Made granola product since the license is in Lexington. We hope to learn more about the finalizing of terms soon.
With support from Holy Family, Rebecca increased both social and pastoral outreach to this very poor community. After faithfully serving in the community for eight years, Rebecca Woods made the decision to transition out of the parish.  However, she created a strong foundation for a new lay leader, Rebecca Nixon, to succeed her in this important ministry.  We wish Rebecca Woods the very best in her new role as a case manager with the Indiana Dept. of Child Services and as a new mom.  We look forward to hearing more about St. Paul's programs and the progress of Mountain Made granola from Rebecca Nixon while keeping both Rebecca's in our prayers.